Saturday, 22 September 2018
News
Texas Cop Punches Pregnant Air Force Veteran [Video]
2015-05-25 23:20
Nine months pregnant Deanna Robinson, 38, was arrested on charges of assault on a public servant, resisting arrest and interfering with child custody, at her parents' home on March 4. Robinson's 9-year-old stepson, had apparently shared with his teacher the events of a domestic violence incident, that had occurred at his home. After receiving an order from Child Protective Services, the sheriff's department then preceded to force their way into her parent's home, to take away Robinson's 18-month-old son.
gt-en-newsitem-inside
A cell-phone video, however, shows that Robinson was hit four or five times by a sheriff's deputy, from Hunt County, during the child abuse investigation. The short clip posted online, appears to show a deputy violently punching Robinson, even after she repeatedly told him she was pregnant.
Robinson said her stomach hit the kitchen counter repeatedly during the incident, causing heavy bruising. "It's ridiculous, it's insane. I was handcuffed almost immediately and shoved into a corner by two giant men. I wouldn't have had an opportunity to assault anyone. There's nothing to warrant what they did to me," she told NBCDFW.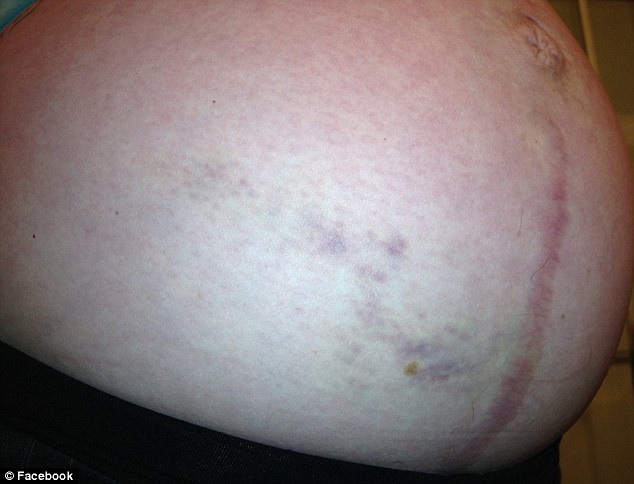 Hunt County Sheriff, Randy Meeks, said that an investigation was underway. It will determine whether the deputy, Josh Robinson, was at fault. "I have requested that the Texas Rangers conduct an independent investigation into this incident in the interest of transparency and preserving public confidence in the Hunt County Sheriff's Office. I believe before judgment is rendered the whole truth needs to be examined," Meeks said.
The baby was born March 15, after Robinson had been released from jail, and is currently with Robinson's parents. The 9-year-old, who has cerebral palsy and is in a wheelchair, is the oldest of Robinson's three stepchildren. She also has a toddler. All of them are with Child Protective Services.
This is Robinson's baby that was born about a week after her release from jail. pic.twitter.com/rN19Z7lMKK

— Tanya Eiserer (@tanyaeiserer) April 6, 2015
Robinson is an Air Force veteran, having served on active duty between 2001-2005. While in Iraq she helped drag soldiers from a burning plane, for which she received the Airman's Medal.
Top 10 most stupid professions

Select spelling error with mouse and press Ctrl+Enters